Welcome to my Digital Altitude Review
Digital Altitude was the Architect of a former Marine Michael Force. It was created to give online marketers both newbies online a platform to learn the necessary skills to be successful online marketers.  The system invovles a step-by step process if followed success is guaranteed.  If you want to take your online business earning potential to the next level this system is the perfect system for you!
One huge advantage is having industry leading 7-Figure Earners coach you through each step of the process.  Not only do they coach you, but they also will be closing your Sales for you.  All you do is literally bring people into the system for a $1 Trial and the rest is done for you!
The Product Line –  Digital Altitudes Fundamental Elements are Aspire, Base, Rise, Ascend, Peak, and Apex.  The first thee products are digital learning products with step-by step guide, with the coaching to support you.  The latter three products are world class live events where the worlds elite entrepreneurs gather with the members and pour their experience into Digital Altitudes Members that have gone in at each level. 
Digital Altitude Product Review 
Aspire's Monthly Membership – Walker ($37) 40% Commission and 1 Tier Payout.   Hiker ($67) 50% Commission and 2 Tiers Payout.  Climber ($127) 60% Commission and 3 Tiers Payout.  This is a great residual income source that pays commissions monthly.  With Climber, have access to all the preloaded follow-ups that can be uploaded into your Get Response, or Aweber Autoresponder.  With Aspire – You will have access to the automation, sales funnels, email swipe, tools and resources to lean, build, and scale your online business.  Build by 7-Figure earners.
BASE – Digital Mastery Course ($597) – The first 3 months of any business are crucial, setting up the direction and whether it will be one of success.  BASE helps you "come out swinging" in those crucial early days, with shortcuts, tools and resources to fast track your digital businesses' success..
RISE – Digital Marketing Mastery Course ($1,997) In internet marketing, your "inner game" is half the battle.  RISE provides you with the key mindsets and concepts developed by top marketers for success, along with traffic, tools, and resources to fast track your digital business' growth..
ASCEND – Digital Profit Workshop ($9,997) To really succeed in marketing, you need to "go deep."  Top Marketers understand where they are by building connections with and learning from the world"s most respected experts.  ASCEND, is a 3 Day all inclusive retreat for two, and is your opportunity to learn one on one from the world's top business thought leaders..  All under one room.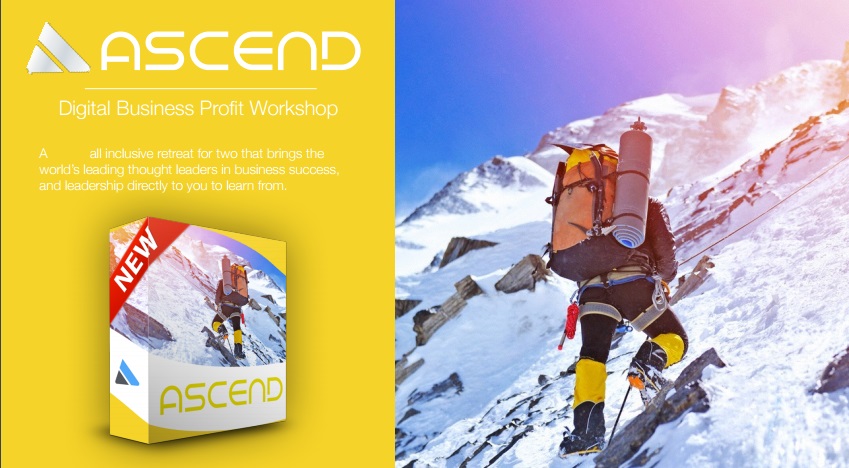 PEAK – Digital Business Prosper Retreat ($16,997) You've got your business off the ground.  Are you ready to go to take it to the next level?  PEAK is a 5 Day all inclusive retreat for two that brings the world's top thought leaders in business, success, management, and leadership directly to you.  It's success training like you've never experienced before.
APEX – Digital Business Legacy Experience ($27,997) A pro is someone who succeeds.  A champion is one who leaves a lasting legacy.  APEX is a 7 day retreat for two, where you will learn the art of wealth building, real estate and asset management from the undisputed champions of these industries.  It's simply the best business-training even in the world.
There are financing options available to you.  The program was designed to not only bring in those who can go in at this level but grow aspiring digital entrepreneurs to climb up the mountain up to the APEX level.
Digital Altitude's Compensation Plan
The compensation plan is very robust in that it provides 60 Streams of Income, with 19 Residual Streams that payout over 3 Tiers.
Note – In order to receive commissions on the above items you must own those products.  Otherwise those commissions will pass up to your sponsor due to sponsor lock.  There are financing options available and bulk purchase arrangement to may be made.
Who Should Join Digital Altitude?
Digital Altitude was created for anyone to join.  Specifically it was designed for individuals who are either newbies, have no experience in the online world or proffessionals.The system is designed to make everyone successful. Digital Altitude has something for everyone.  Entry level products that are affordable, and also top tier items that those may not be positioned to enter in at.  You have every opportunity at your disposal to climb up the mountain.
If you're interested in taking your online business skills to the next level, this platform is for you.  In my opinion Digital Altitude is a great opportunity to both learn, grow, and scale your online business and your skills.  All while you can create a tremendous online income
Thank you for taking the time to read my Digital Altitude Review!